Cassoulet
---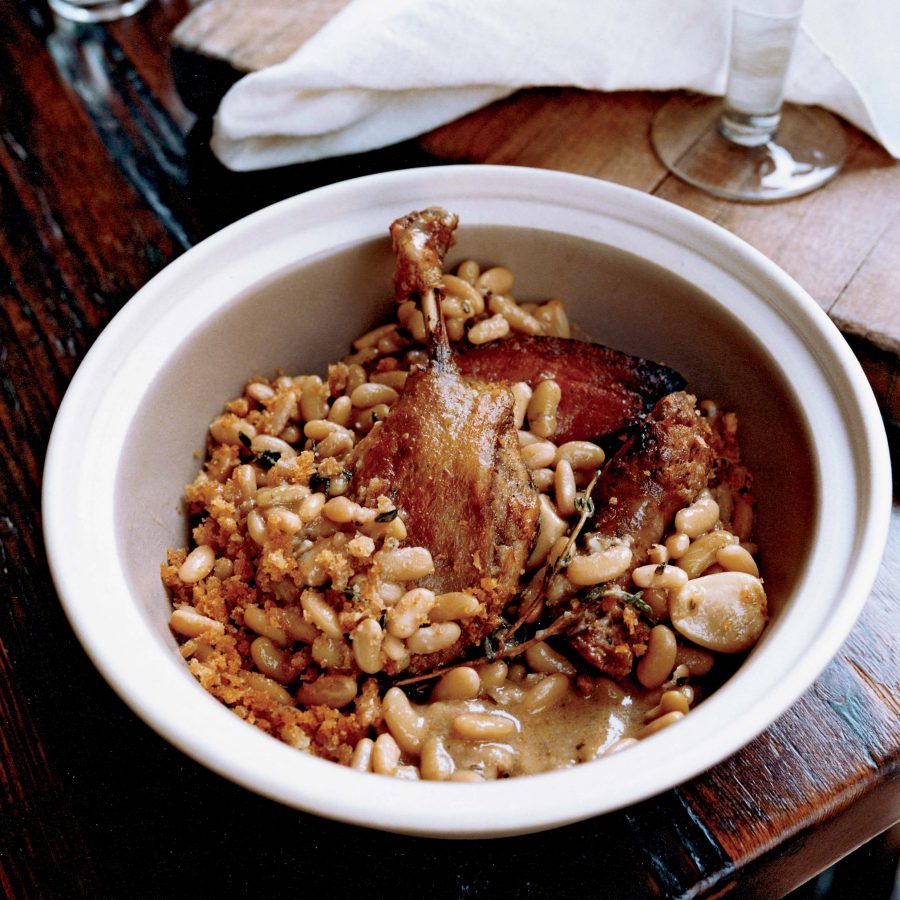 HOW TO MAKE CASSOULET?
Cassoulet is a rich, slow-cooked casserole originating in the south of France, containing meat (typically pork sausages and duck) and white beans (haricots blancs). Here is a delicious recipe made with duck leg confit and garlic sausage! Bon appétit!
SERVINGS: 8
INGREDIENTS
5 tablespoons extra-virgin olive oil
Two 1/2-inch-thick slices of pancetta (4 ounces), cut into 1/2-inch dice
1 medium onion, cut into 1/2-inch dice
1 pound dried flageolets or Great Northern beans, rinsed and picked over, then soaked for 2 hours and drained
4 thyme sprigs
2 quarts water
1 quart chicken stock
1 large head of garlic, separated into cloves and peeled
Kosher salt
4 pieces of Fabrique Délices duck leg confit, trimmed of excess fat
3/4 pound Fabrique Délices garlic sausage, sliced crosswise 1/2 inch thick
4 ounces  Fabrique Délices lardons
2 cups coarse fresh bread crumbs
2 tablespoons chopped parsley
HOW TO MAKE THIS RECIPE
1. In a large saucepan, heat 3 tablespoons of the olive oil. Add the pancetta and cook over moderate heat until the fat has been rendered, about 5 minutes. Add the onion and cook, stirring occasionally, until softened, about 7 minutes. Add the beans, thyme sprigs, water and stock and bring to a boil. Simmer over low heat, stirring and skimming occasionally, until the beans are al dente, about 1 hour.
2. Add the garlic cloves to the beans and simmer until the garlic and beans are tender, about 15 minutes. Discard the thyme sprigs. Season the beans with salt and let cool to room temperature. Cover and refrigerate the saucepan overnight.
3. Preheat the oven to 350°F. Rewarm the beans over moderate heat. Transfer the beans to a large, deep baking dish. Nestle the duck legs, garlic sausage and bacon into the beans. Bake for about 40 minutes, until the cassoulet is bubbling and all of the meats are hot. Remove from the oven and let rest for 15 minutes.
4. In a skillet, heat the remaining 2 tablespoons of olive oil. Add the bread crumbs and cook over moderately high heat, stirring, until browned and crisp, about 3 minutes. Sprinkle the bread crumbs and the parsley over the cassoulet and serve.
MAKE AHEAD
The cassoulet can be prepared through Step 3 and refrigerated for up to 2 days. Rewarm before proceeding.
CREDIT
FOOD AND WINE  / Contributed by Laurence Jossel  /  Photo © Cedric Angeles