Ficelles au chorizo
---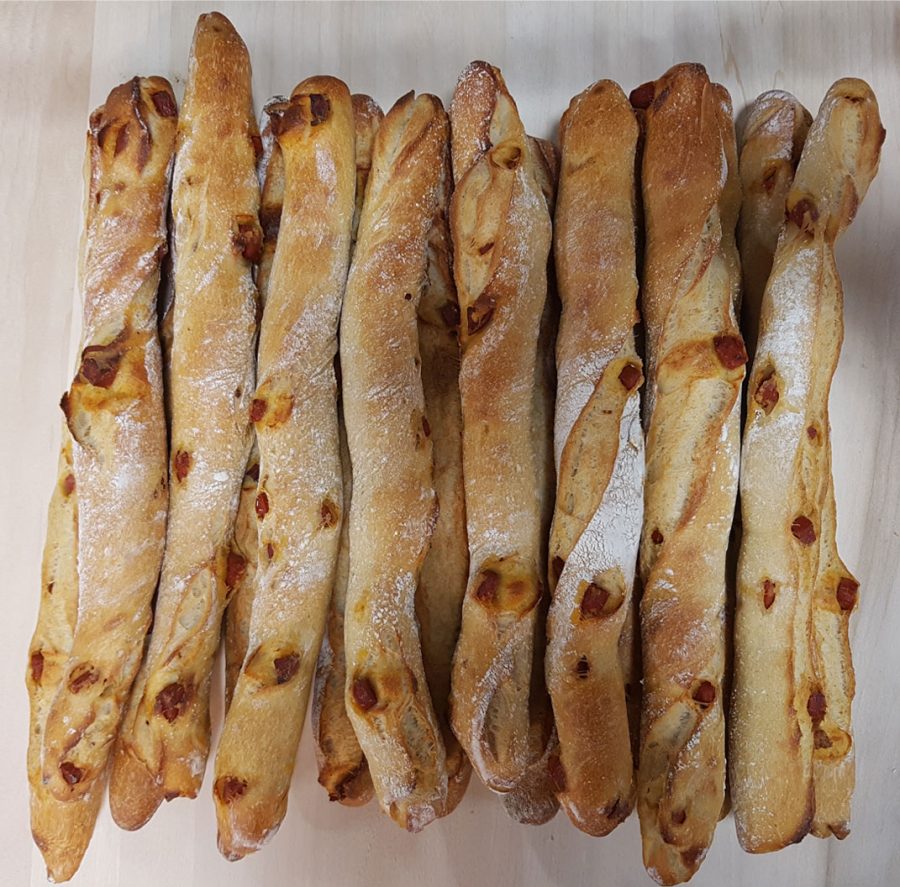 FICELLES AU CHORIZO
In France, "une ficelle" is a small and very narrow French baguette. At the bakery, you will find, among other flavors, "ficelle au chorizo", "ficelle au Beaujolais nouveau" or "ficelle aux lardons et comté". Perfect for l'apéro, you can enjoy this delicious appetizer with a glass of wine and your favorite pâté. Bon appétit!
SERVINGS: 4
INGREDIENTS
HOW TO MAKE THIS RECIPE
1. Start by dissolving the yeast in water at room temperature. In a large bowl, combine the flour and salt. Create a well in the center and add the yeast. Mix and knead the dough, then let it rise for 30 minutes.
2. Once the dough has risen, press it down to remove the air inside. Divide the dough into strips about 2 inches (5 cm) wide.
3. Sprinkle the dry-cured chorizo, previously cut into diced, on each strip, then close them by pinching the edges. Roll into long ropes to make it even.
4. Place the ficelles on a baking sheet and let them stand for about 20 minutes. Then, score the ficelles with a sharp knife.
5. Bake for 25 minutes at 400 F (200°C). Place a bowl full of water in the oven at the same time.
6. Your ficelles with chorizo are ready! Bon appétit!
CREDIT
Photo: Fabrique Délices