Fabrique Délices – the taste of France in Hayward
---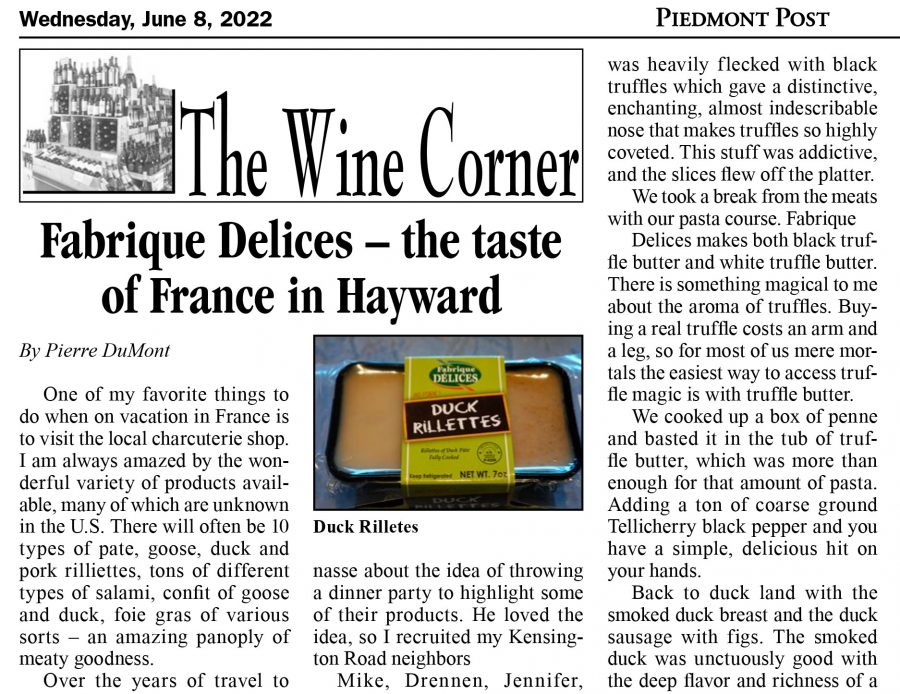 Published June 8, 2022
By Pierre DuMont
One of my favorite things to do when on vacation in France is to visit the local charcuterie shop. I am always amazed by the wonderful variety of products available, many of which are unknown in the U.S. There will often be 10 types of pâté, goose, duck and pork rillettes, tons of different types of salami, confit of goose and duck, foie gras of various sorts – an amazing panoply of meaty goodness.
Over the years of travel to France, I realized you do not even have to find a charcuterie shop to locate these products. Any good French Supermarché, like Leclerc, Casino, Intermarché, or Carrefour, will have a long charcuterie counter where you can purchase the same quality of products that you find in the small shops.
After years of smuggling home pâté and rillettes in my suitcase, I was amazed and delighted to discover the wonderful Fabrique Délices here in he East Bay. It was a dream come true – a company started by French entrepreneurs to create French-style charcuterie in America. On top of that it was nearby in Hayward.
The company began in 1920 in Meaux, France and was called SAPAR. It became the leading producer of pates in Europe, with its products carried by Fauchon in Paris as well as gourmet stores all over Europe. In 1985 Jean Claude Augé decided to establish Fabrique Délices and bring French charcuterie to the American market.
The idea was to produce products of outstanding and consistent quality with unique and eye-catching presentations. In 1996 Marc Poinsignon and Antonio Pinheiro were brought from France to oversee the U.S. subsidiary. In 2002 Fabrique Délices moved into a newly built plant in Hayward, and today it is the largest producer of French charcuterie in America.
I reached out to Fabrique Delices president Sebastien Espinasse about the idea of throwing a dinner party to highlight some of their products. He loved the idea, so I recruited my Kensington Road neighbors Mike, Drennen, Jennifer, Jason, Megan, Ittai, and Margaret to be my guinea pigs.
We started with the duck and pork rillettes. Most Americans know about pâté, but not many know rillettes which are very popular in France. Every charcuterie place has big bowls of duck, goose and pork rillettes which they scoop out for you. It is basically moist meat mixed with extra fat which gives it an incredibly rich taste.
You spread it on crusty French bread and finish with a tart cornichon pickle to cut the fat. Both types of rillettes were good, but the nod went to the duck. There was something almost decadent about spreading this essence of duck on bread.
We progressed to the salami course, which featured Dry Coppa, Wild Boar Salami and Black Truffle Salami. The Coppa was a large 6-inch diameter log of fat marbled meat similar to what you might find in an Italian deli. It was tasty and well received but I found its girth made it difficult to slice thin enough with just a knife.
The Wild Boar salami was very intense and dark. The label said it was made from feral pigs (where do you get those?) and it did have a sort of "wild" taste. It was really great, especially with a piece of Conte cheese and some bread, but by far the favorite salami was the Black truffle. Considering how expensive they are, I did not expect it to really have that much truffle flavor. But was I wrong. This salami was heavily flecked with black truffles which gave a distinctive, enchanting, almost indescribable nose that makes truffles so highly coveted. This stuff was addictive, and the slices flew off the platter.
We took a break from the meats with our pasta course. Fabrique Délices makes both black truffle butter and white truffle butter. There is something magical to me about the aroma of truffles. Buying a real truffle costs an arm and a leg, so for most of us mere mortals the easiest way to access truffle magic is with truffle butter.
We cooked up a box of penne and basted it in the tub of truffle butter, which was more than enough for that amount of pasta. Adding a ton of coarse ground Tellicherry black pepper and you have a simple, delicious hit on your hands.
Back to duck land with the smoked duck breast and the duck sausage with figs. The smoked duck was unctuously good with the deep flavor and richness of a fine jambon Iberico. The duck sausage with figs was a wonderful contrast of savory and sweet and a truly interesting combination.
The evening's coup de gras was the duck leg confit. FD sells these in packages of 1, 3 and 6 legs. Confit is the leg of a duck or goose cooked and then preserved in its own fat. In rural France this was a way of ensuring the family had meat during the lean months of winter.
Today, it is a way of serving duck with absolutely no hassle. Because it's already been cooked, all you do is heat up the legs under the broiler in the oven. After about 20 minutes the skin becomes crisp while the meat stays tender. You can use the duck legs in cassoulet, tear the meat off for use in pasta, or a salad, or do what we did – eat it plain. The Kensington gang agreed that there is something especially delicious about the meat of a duck that you just don't get from chicken.
And yes, we also had a salad and some cheese to balance out the meats. The wines of the evening were magnums of Morgon Beaujolais and Paul Jabuolet Parallel 45 Cotes du Rhone, both simple basic wines they drink in France with this kind of food. It was a wonderful evening of good food, good wine, and good friends. Congratulations to Fabrique Délices for replicating the French gastronomic experience here in America.
For more information, see fabriquedelices.com