Fabrique Délices Wins 2023 SoFi™ New Product Award For Garlic & Herbs Butter
---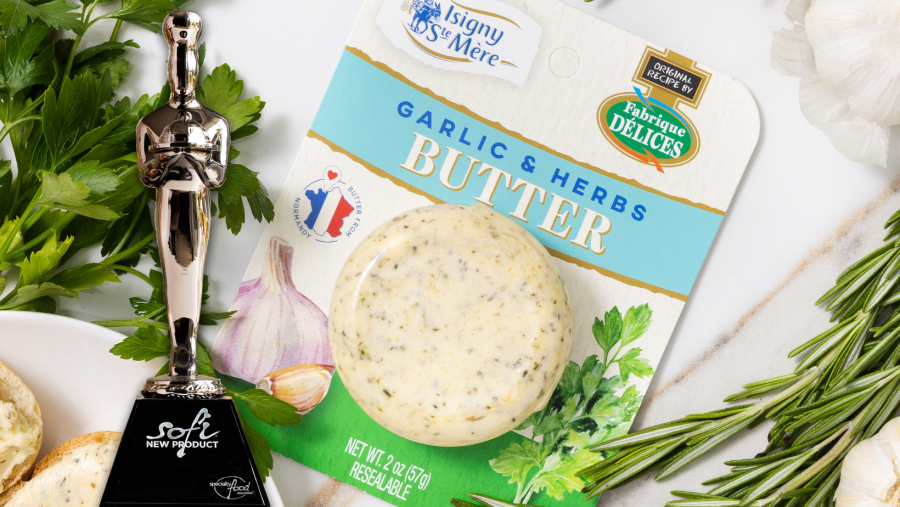 Fabrique Délices, leading producer of artisanal charcuterie and gourmet foods, in collaboration with Isigny-Sainte-Mère, a renowned French dairy cooperative, has won a prestigious Specialty Food Association (SFA) 2023 SoFi™ New Product Award for its Garlic & Herbs flavored butter.
The SoFi Awards, which stands for Specialty Outstanding Food Innovation, honor the best and most innovative products in the specialty food industry. Fabrique Délices and Isigny-Sainte-Mère's Garlic & Herbs flavored butter was recognized in the Dairy and Dairy Alternative category. Following original recipes from Fabrique Délices, Garlic & Herbs flavored butter is made with Isigny-Sainte-Mère premium French butter from grass-fed cows in Normandy, France and carefully blended with a flavorful mix of garlic, garden-fresh thyme & parsley, and rosemary. It is perfect for adding a touch of French flair to everything from grilled meats to sautéed vegetables.
"We are proud to receive this SoFi New Product Award in collaboration with Isigny-Ste-Mère," said Sébastien Espinasse. "Our Garlic & Herbs flavored butter is a labor of love, made with the finest ingredients and crafted with care. We are always striving to create new and exciting flavors that will delight our customers."
Fabrique Délices & Isigny-Sainte-Mère bring together over 150 years of experience in their respective crafts to deliver an exceptional selection of deliciously flavored French butter. Using world-renowned Isigny-Sainte-Mère butter, beloved by chefs across the globe, Fabrique Délices' artisans carefully intertwine only the finest ingredients to create delicious bursts of flavor, guaranteed to elevate any dish.