Fabrique Délices Wins Good Food Award with Its Convivial and Traditional Saucisson Sec
---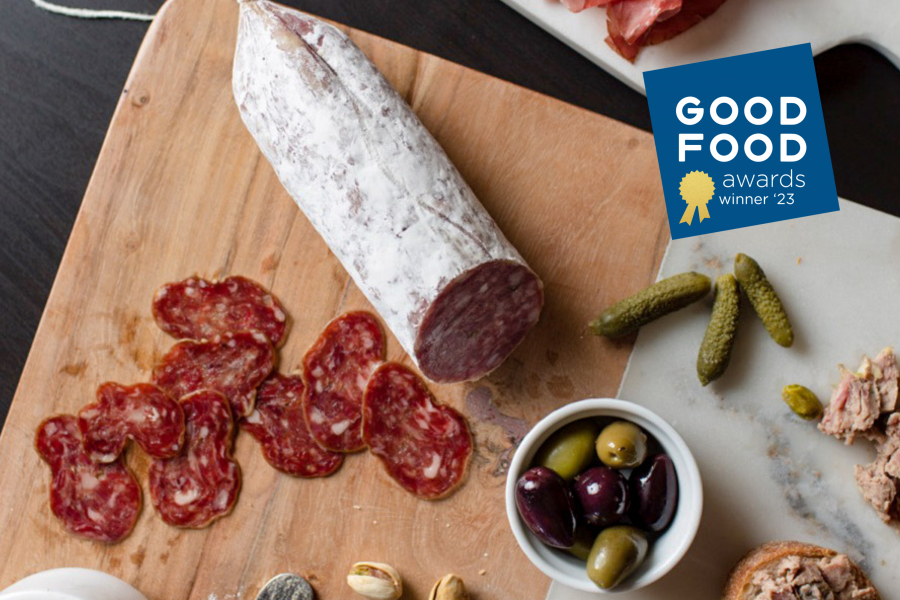 Fabrique Délices has been awarded the prestigious 2023 Good Food Mercantile Award for its Saucisson Sec. This award-winning dry sausage is a testament to Fabrique Délices' commitment to quality. In order to create a rich and flavorful taste, pork is carefully blended with fresh garlic, sea salt, and black peppercorns. The excellent balance of seasoning and flavor makes it the perfect addition to any charcuterie board or antipasto platter.
"We are thrilled to receive the Good Food Award for our Saucisson Sec," said Sébastien Espinasse, President of Fabrique Délices. "Our team works hard to ensure that our products are made using the highest quality ingredients and reflect our commitment to quality and preserving traditional French recipes."
Handcrafted using a traditional French recipe, our Saucisson Sec is packaged in an all-natural beef casing, cured for 30 days, and then hand tied. This attention to detail and commitment to quality sets Fabrique Délices apart. So whether you're planning a picnic or looking for a fancy snack, Fabrique Délices' Saucisson Sec is the perfect choice for any occasion.
Since 1985, Fabrique Délices has been committed to producing high-quality charcuterie with traditional savoir-faire and a spirit of conviviality from its home in the San Francisco Bay Area. From pâtés to dry sausages, their all-natural products have graced the tables of the White House and the finest restaurants for decades and are now available for home chefs and food enthusiasts.