FROM FRANCE TO MILL VALLEY
---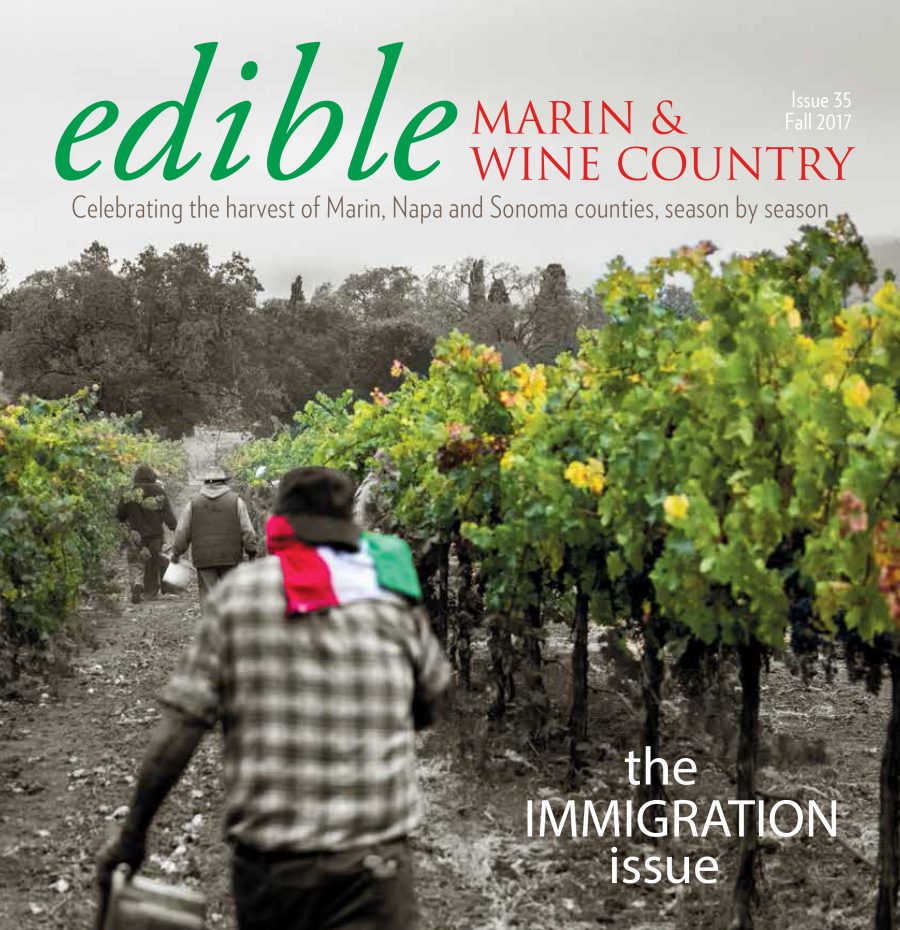 BY GARY FITZGERALD & GIBSON THOMAS 
|

 August 25th 

, 2017
A PATH PAVED WITH GOOD TASTES
Two clocks sit above the kitchen door of the Mill Valley home of Sébastien Espinasse and Valérie Soubranne. One is set to Pacific Standard Time, the other to Central European Time. Although Sébastien, 43, has lived in the San Francisco Bay Area since 1996, his connections to and love of France remain strong.
Sébastien's hometown of Brive la Gaillarde, France, is located 300 miles southwest of Paris, two hours east of Bordeaux. The region is known for its gastronomic delights, including the cheese Cantal and an incredible selection of wild mushrooms. Rillettes du Périgord, a favorite of Sébastien and this writer, is a specialty of the area.
Sébastien's paternal grandfather was a chef and ran a small hotel in the town. His grandparents on his mother's side were farmers, raising pigs, chickens, ducks and around 10 cows–each with a name.
All to say that it's no surprise that Sébastien eventually found his way to a vocation in the gourmet food world, even in his adopted home of Northern California. But it wasn't a direct path.
After receiving a BA in business and sales force management in 1994 from the University of Brive, Sébastien made his way to San Francisco, where he earned an MBA in international business and management from the University of San Francisco. While studying, Sébastien worked as an au pair in order to improve his English.
In 1998, through a chance encounter while he was working at the Marriott Hotel downtown San Francisco, he was introduced to the owners of Fabrique Délices, the Hayward, California–based maker of fine charcuterie, where he was immediately hired and where he currently serves as vice president of sales and marketing and is an integral part of the company's management team.
Fabrique Délices was established in 1985 as the American presence of the French company SAPAR. SAPAR was already widely known across Europe for their outstanding pâtés. Marc Poinsignon and Chef Antonio Pinheiro originally came to the United States from France to act as CEO and plant manager, respectively, of the company, eventually purchasing the U.S.–based business from its French parent in 1996.
Today, Fabrique Délices offers the most extensive array of traditional and artisanal charcuterie made in the United States. In addition to pâtés and mousses, their specialty meat products include rillettes; smoked, dry and cured meats; all-natural sausages; duck confit, magret de canard; saucisson sec; lardons; bresaola and merguez. Among their over 100 current products, they also offer non-meat items including flatbreads, cornichons, truffle butter and sweet macarons.
Fabrique Delices' products are made without artificial colors, ingredients or preservatives, except for the addition of sodium nitrite in their traditional French products, and the company sources its beef, pork and ducks from sustainable farms that do not use antibiotics or hormones. For their chicken products, they use Central Valley– based and family-owned Mary's Chicken, meaning it's non-GMO verified and raised in accordance with the Global Animal Partnership's five-step program. Mary's Chicken also utilizes a special gassing system during the slaughtering process that is sanctioned by the People for the Ethical Treatment of Animals (PETA) organization.
Of course, life is not all about work. After arriving in the United States, Sébastien also married, became a father and fully integrated himself into the community. A former professional soccer player, you can still find him on a soccer pitch in Marin County most weekends. That is, when he's not teaching charcuterie classes at his daughters' school or at The Cheese School in San Francisco.
Sébastien's wife, Valérie, also a French native, works for a producer of wine bottles. The couple's three daughters, Stella (12), Lily-Rose (9) and Charlyne (4), are also being brought up to appreciate fine foods crafted with care. Stella shows remarkable interview skills for her age, as you can see in a series of videos available through the "Gourmet Reporter" link on the Fabrique Delices website. Lily-Rose loves to cook and her proud papa reports that she makes a delicious Quiche Lorraine using Fabrique Délices' lardons. She also has quite a discerning palate, sharing in one of our encounters that her French grandfather makes the best pâté de campagne–sorry, Dad and Fabrique Delices…Charlyne is still young, but from what I know of her she is perhaps destined for a future as a baker as she does seem to really appreciate a good cookie.
Often the first contact we have with people from other cultures is through the sharing of food and food traditions. Sébastien, Marc Poinsignon and Antonio Pinheiro, through their high quality standards and adherence to the traditions practiced by generations of French food artisans, have raised the bar in the world of artisan meat products here in the United States. They have, in fact, recently organized the American Charcuterie Society to promote the art and enjoyment of charcuterie in the U.S.
In this melting pot that is America, we all benefit from the contributions of "outside the box" food producers and restaurateurs who offer products from their home countries. Oscar Mayer bologna, this is most definitely not.
Gary Fitzgerald is an American Cheese Society Certified Cheese Professional and the cheese specialist at Whole Foods Market on East Blithedale Avenue in Mill Valley.