Meat with a French Accent from Fabrique Délices
---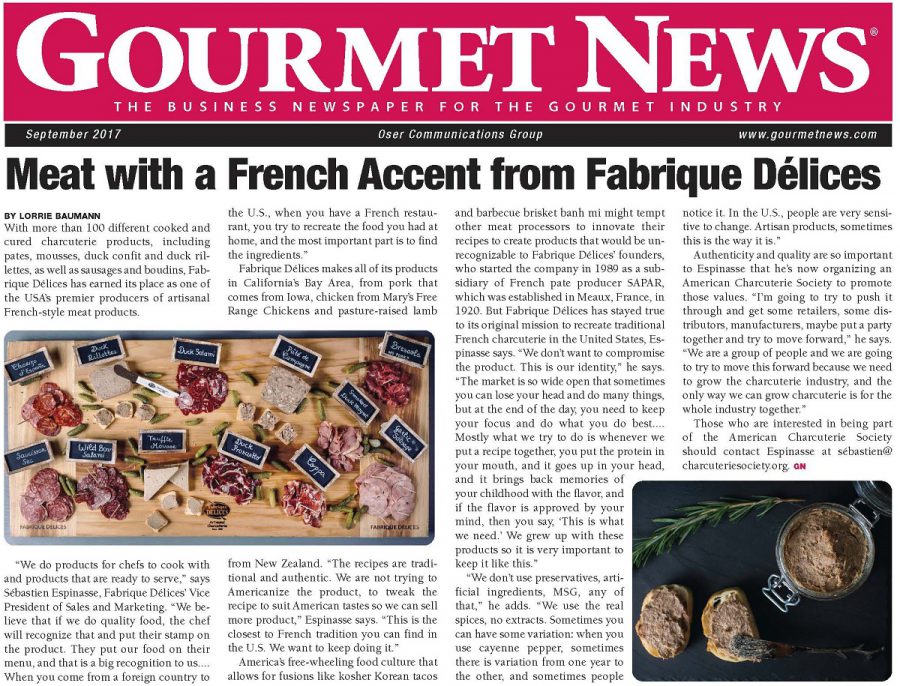 Published September 18, 2017
By Lorrie Baumann
With more than 100 different cooked and cured charcuterie products, including pates, mousses, duck confit and duck rillettes, as well as sausages and boudins, Fabrique Délices has earned its place as one of the USA's premier producers of artisanal French-style meat products.
"We do products for chefs to cook with and products that are ready to serve," says Sébastien Espinasse, Fabrique Délices' Vice President of Sales and Marketing. "We believe that if we do quality food, the chef will recognize that and put their stamp on the product. They put our food on their menu, and that is a big recognition to us…. When you come from a foreign country to the U.S., when you have a French restaurant, you try to recreate the food you had at home, and the most important part is to find the ingredients."
Fabrique Délices makes all of its products in California's Bay Area, from pork that comes from Iowa, chicken from Mary's Free Range Chickens and pasture-raised lamb from New Zealand. "The recipes are traditional and authentic. We are not trying to Americanize the product, to tweak the recipe to suit American tastes so we can sell more product," Espinasse says. "This is the closest to French tradition you can find in the U.S. We want to keep doing it."
America's free-wheeling food culture that allows for fusions like kosher Korean tacos and barbecue brisket banh mi might tempt other meat processors to innovate their recipes to create products that would be unrecognizable to Fabrique Delices' founders, who started the company in 1989 as a subsidiary of French pate producer SAPAR, which was established in Me aux, France, in 1920. But Fabrique Délices has stayed true to its original mission to recreate traditional French charcuterie in the United States, Espinasse says. "We don't want to compromise the product. This is our identity," he says. "The market is so wide open that sometimes you can lose your head and do many things, but at the end of the day, you need to keep your focus and do what you do best…. Mostly what we try to do is whenever we put a recipe together, you put the protein in your mouth, and it goes up in your head, and it brings back memories of your childhood with the flavor, and if the flavor is approved by your mind, then you say, 'This is what we need.' We grew up with these products so it is very important to keep it like this."
"We don't use preservatives, artificial ingredients, MSG, any of that," he adds. "We use the real spices, no extracts. Sometimes you can have some variation: when you use cayenne pepper, sometimes there is variation from one year to the other, and sometimes people notice it. In the U.S., people are very sensitive to change. Artisan products, sometimes this is the way it is."
Authenticity and quality are so important to Espinasse that he's now organizing an American Charcuterie Society to promote those values. "I'm going to try to push it through and get some retailers, some distributors, manufacturers, maybe put a party together and try to move forward," he says. "We are a group of people and we are going to try to move this forward because we need to grow the charcuterie industry, and the only way we can grow charcuterie is for the whole industry together."
Those who are interested in being part of the American Charcuterie Society should contact Espinasse at sebastien@charcuteriesociety.org.