Picnics From the Deli
---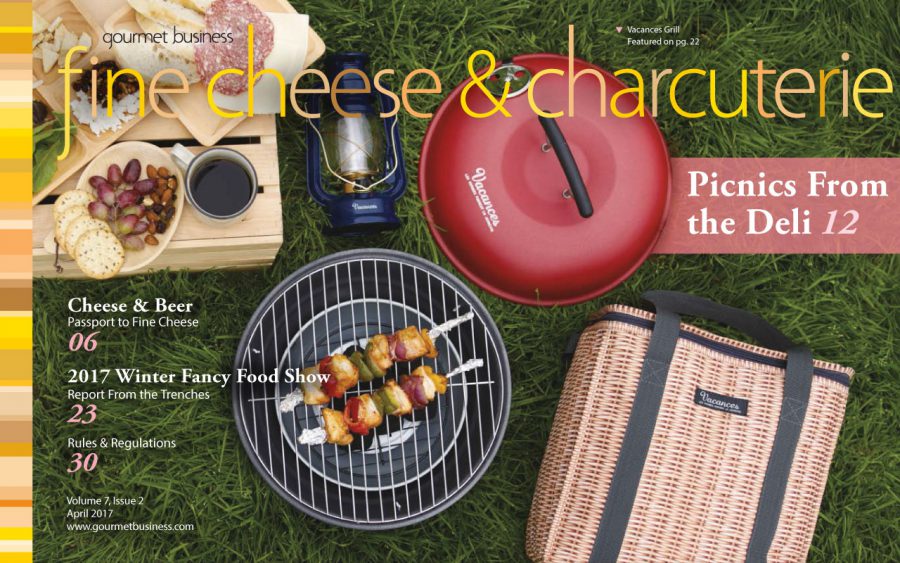 By James Mellgren
" Summer is nearly upon us, and besides baseball games, lazy days at the beach, and a new season of "America's Got Talent," nothing really epitomizes the season like the idea of a picnic with friends or family. And if the wealth of interesting upscale picnic accoutrement we saw at the recent International Home + Housewares Show in Chicago was any indication, picnics are making a big comeback.
Off to the countryside with wine and baguettes sticking out of their baskets, to enjoy a day in the sun with cheese, saucisson sec, pâté, cornichons, and if there are particularly ambitious, perhaps a roast chicken and a salad or two. The Italian image is similar, only a Ferrari replaces the bicycles,
a round country loaf of bread supplants the baguette, and the basket is filled with a variety of salume, sliced prosciutto, fresh mozzarella still oozing out milk into its container, and chunks of pecorino, provolone or Parmigiano Reggiano. And wine. There is always wine. […]
Inside the deli case itself, stock plenty of self-contained selections, items that can be easily consumed in one sitting at a picnic that don't require trying to handle leftovers that perhaps have been sitting in the sun too long. In the product gallery that follows, notice the little 7-ounce pâtés from Fabrique Délices and the wonderful tins of Matiz seafood from Culinary Collective. There are plenty of options for small containers of cheese spreads, goat cheeses and vacuum-packed sausages in small sizes. You can pre-pack things like dressed olives, and even do small containers of condiments that need not be brought back from the wilds.
If you or your customers are struggling with the idea of putting together a charcuterie selection, watch the following instructional video. Although it's about assembling for aperitif, the principles apply to picnics as well. The charming young lady in the video is Stella, the daughter of Sébastien Espinasse, VP of Sales & Marketing for Fabrique Délices. https://www.youtube.com/watch?v=rubZRimwbTo  […]
Fabrique Délices offers the best and most versatile line of authentic French charcuterie in the United States. They make over 100 products including all-natural pâtés, mousses, rillettes, fresh and dry sausages, truffle butter, cornichons, and even some charming and colorful macarons. Their products are perfect for so many occasions, including light meals, aperitif (cocktail hour), snacks, and parties. In fact, one can entertain at a moment's notice with a selection of these wonderful foods. But many of the products are also ideal for a picnic. The packaging is conducive to packing in a hamper, and many of the heartier dried products can stand out for hours without harm. Some of our favorites include Duck Rillette, Bresaola (a traditional cold cut made from 100% beef, sea salt and garlic, and dry cured whole for 75 days and hand tied), Rosette de Lyon (a traditional sausage made from pork blended with fresh garlic, sea salt and black peppercorns in a natural beef casing and cured for 30 days), Saucisson sec (a rich, flavorful cured pork sausage with an excellent balance of seasoning and flavor), and Truffle Mousse (creamy chicken livers, truffles and cèpes (porcini) marinated in Sherry wine). All you need to add is a few fresh baguettes, some cornichons (see below), and wine for a memorable picnic without ever turning on the stove."
View online
---